Crocodile Shooting Challenge bouncy castle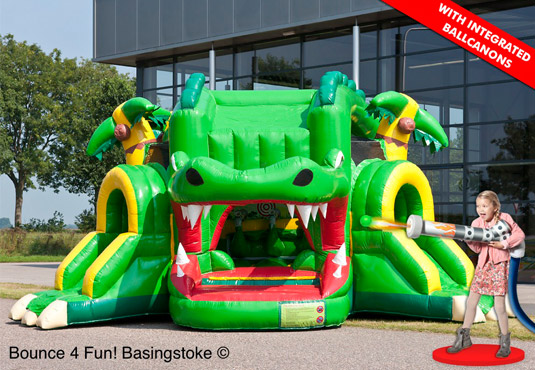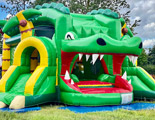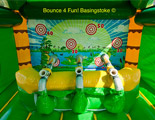 About this product:
The UK's first crocodile themed bouncy castle with integrated air canons inside!
You saw it here first!
Children enter the bouncy castle through the crocodile's mouth to then be greeted by three air canons inside!
The children can then challenge their friends to a shooting game by firing the balls from the air canons at the crocodile targets on the wall. The one that hits the highest numbered target is the winner.
If that's not enough this bouncy castle also has two mini slides that are on the crocodiles feet, just to simply add more fun!
Safety:
Parents don't panic this unique bouncy castle is absolutely safe for children, there are no steel or metal parts on the canons and although the canons have enough pressure to shoot the soft balls up to 20 feet, it cannot injure any child who gets in contact with the ball. The air canons can be removed if required.
Specifications:
Inflated size: 19ft x 20ft x 13ft
Suitable for indoor hire (ceiling height dependant)
Hire me - £150


click to check availability & book online!